The new 95 yacht from Pearl Yachts on the French Riviera
The French Riviera is known for its beautiful yachts and boats, but the brand new 95 yacht from Pearl Yachts is a true masterpiece on its own. Designed by Bill Dixon, this vessel represents a unique combination of style and functionality, offering owners and guests a luxurious experience off the French coast.
Dans les lignes suivantes, découvrez pourquoi le nouveau yacht 95 de Pearl Yachts est la construction la plus novatrice à ce jour sur la Côte d'Azur
Presentation of the new 95 yacht from Pearl Yachts
Renowned British designer Bill Dixon has designed the newest yacht, the 95 from Pearl Yachts. With an unusual but very effective design, this yacht will be one of the most innovative constructions to date.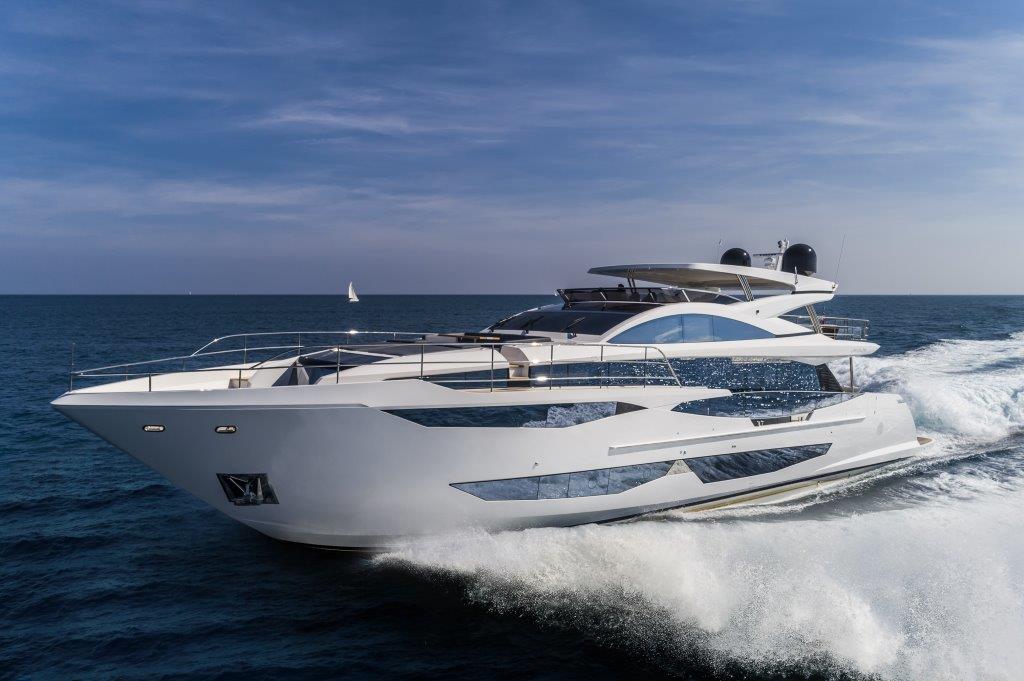 Description of the exterior design
The 95 yacht is distinguished by its modern lines and luxurious finishes. Its elongated volumes mark an elegant style that will delight spectators on the French Riviera.
It also offers a maximum speed of 30 knots thanks to its MAN V12-1550 engine, making it one of the fastest and most responsive yachts on the market
Description of the interior design
The main deck offers a spacious and comfortable lounge, with side windows allowing for plenty of natural light. The master cabin is also located on the main deck and offers several options, including a full beam owner's cabin that can be located on either the port or starboard side.
Between three and four additional cabins can be accessed by a separate staircase to provide privacy for the owners and guests of the boat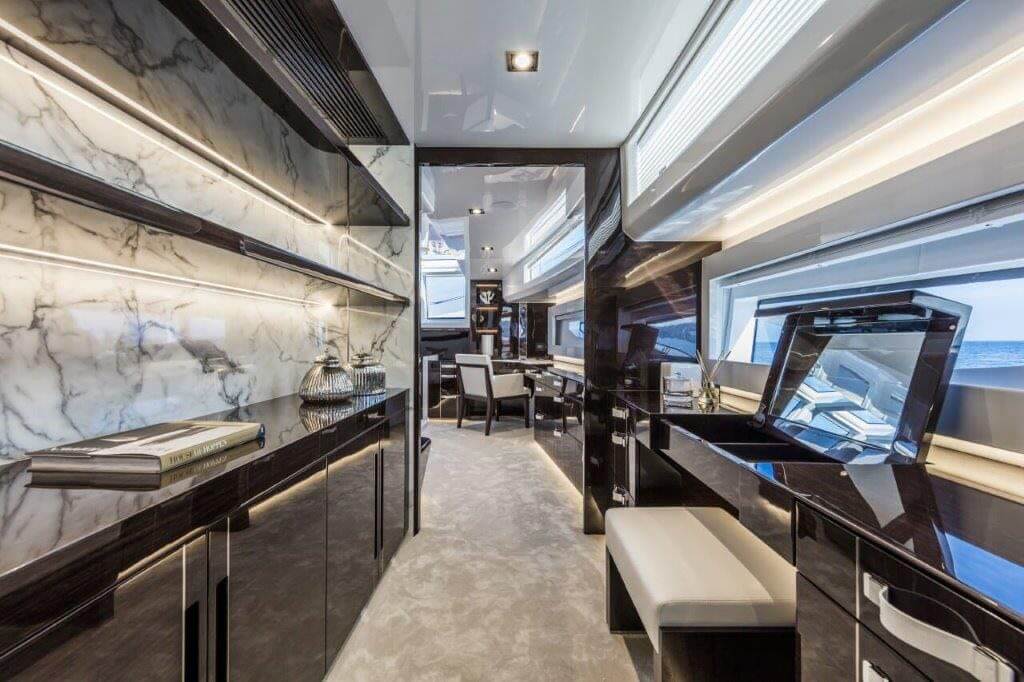 What are the advantages of this yacht?
Full beam owner's cabin
The master cabin has a full bathroom with shower and toilet, as well as a dressing room for easy personal storage. A built-in kitchen allows you to cook all types of meals while the bedroom is surrounded by large windows to bring even more light to this unique space.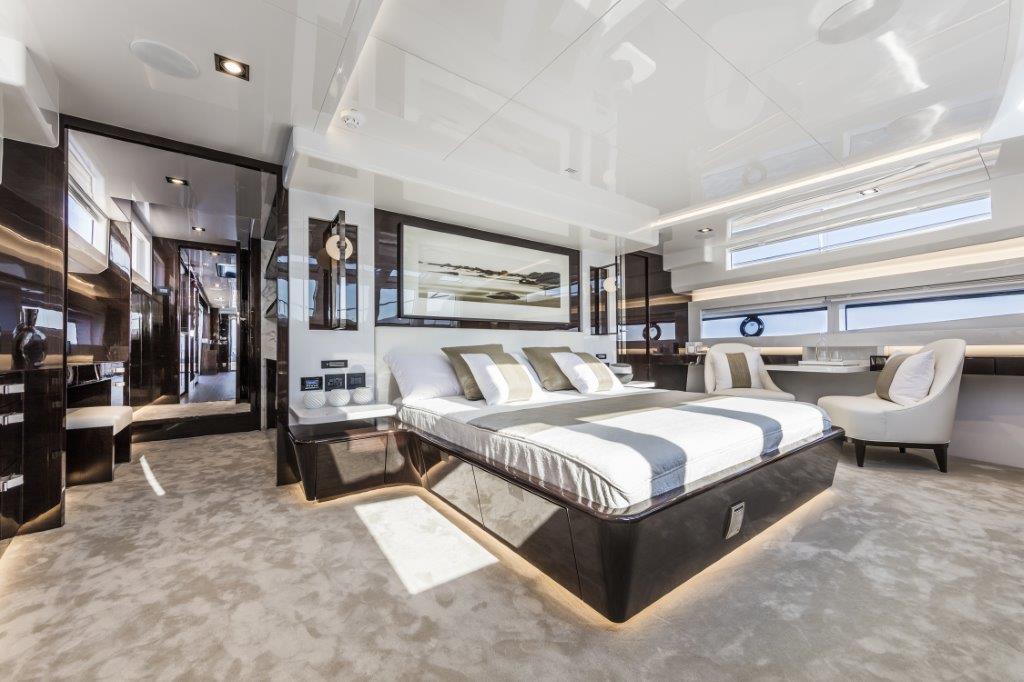 Bridge spaces and interior design
The space on deck is very varied: 11 people can move around freely; tables, chairs and other extendable furniture are available for full service during meals; there is also an aft platform for sunbathing or watching the sea from a great height. Finally, and to further enhance the passenger experience, a flybridge is installed in the upper part of the ship.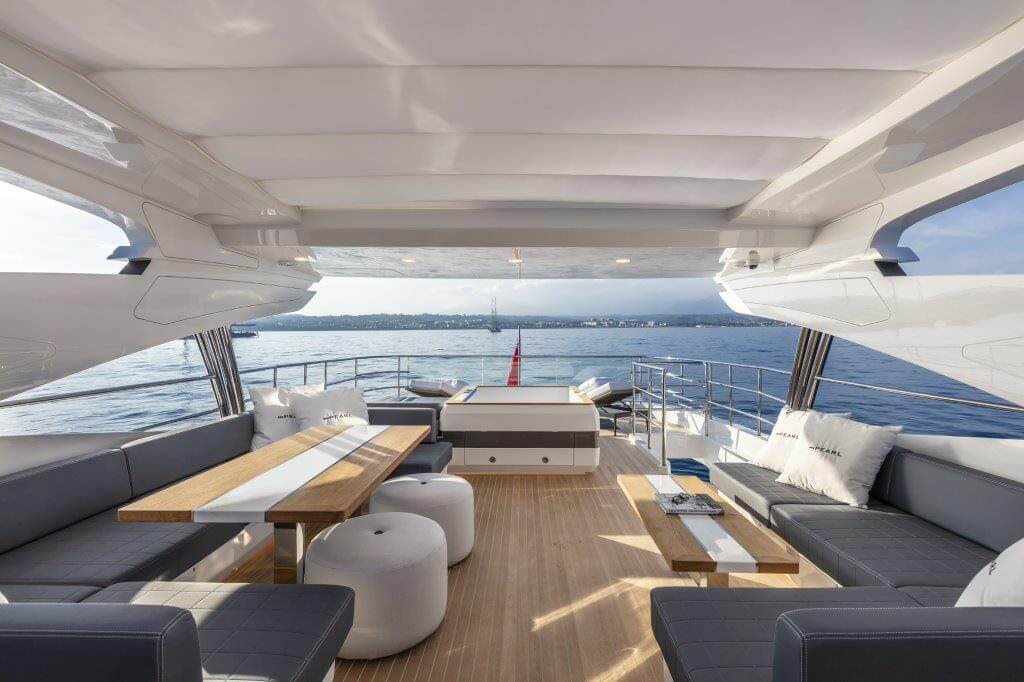 Where to find the Pearl Yachts 95?
Yachticea, located on the prestigious French Riviera, is your exclusive partner for the resale of Pearl Yachts.
Contact Marc Mellino, your Pearl Yachts distributor in Sainte Maxime